The travel landscape certainly has been a little bit different recently, with flights grounded and quarantine restrictions in place around most of the world.
All that time stuck at home hasn't been wasted, however, as we've all been planning our first big adventure once borders start to reopen.
But which are the places where Americans are looking to head on vacation once travel restrictions are lifted? 
Will we all look to keep things fairly close to home at first, or go all out and make up for all that lost time with a long-haul trip to someplace on our bucket list?
To find out, we've analyzed Google data to determine which destinations Americans have been searching for the most in the last six months.
The USA's Top Future Travel Destinations
Top Country Destinations
The figures suggest that the majority of Americans are planning a trip fairly close to home once pandemic-related restrictions allow it, with Puerto Rico the most popular destination.
Of course, Puerto Rico is an unincorporated U.S. territory, and Americans don't even need a passport to travel there. The Caribbean island is about four hours from major cities such as New York, Dallas, and Philadelphia.
Mexico, always a popular tourist destination for travelers from the U.S., came in second place, although it seems that some Americans are still planning on traveling further afield, with the Maldives taking third place.

Top City/Region Destinations
Looking more specifically at the cities and regions that Americans are most looking forward to visiting, the list is largely dominated by destinations in North America and the Caribbean, although Bora Bora in French Polynesia took the top spot.
The South Pacific paradise was followed by the popular resort location Cancún, in Mexico, as well as Paris, a longtime favorite European capital.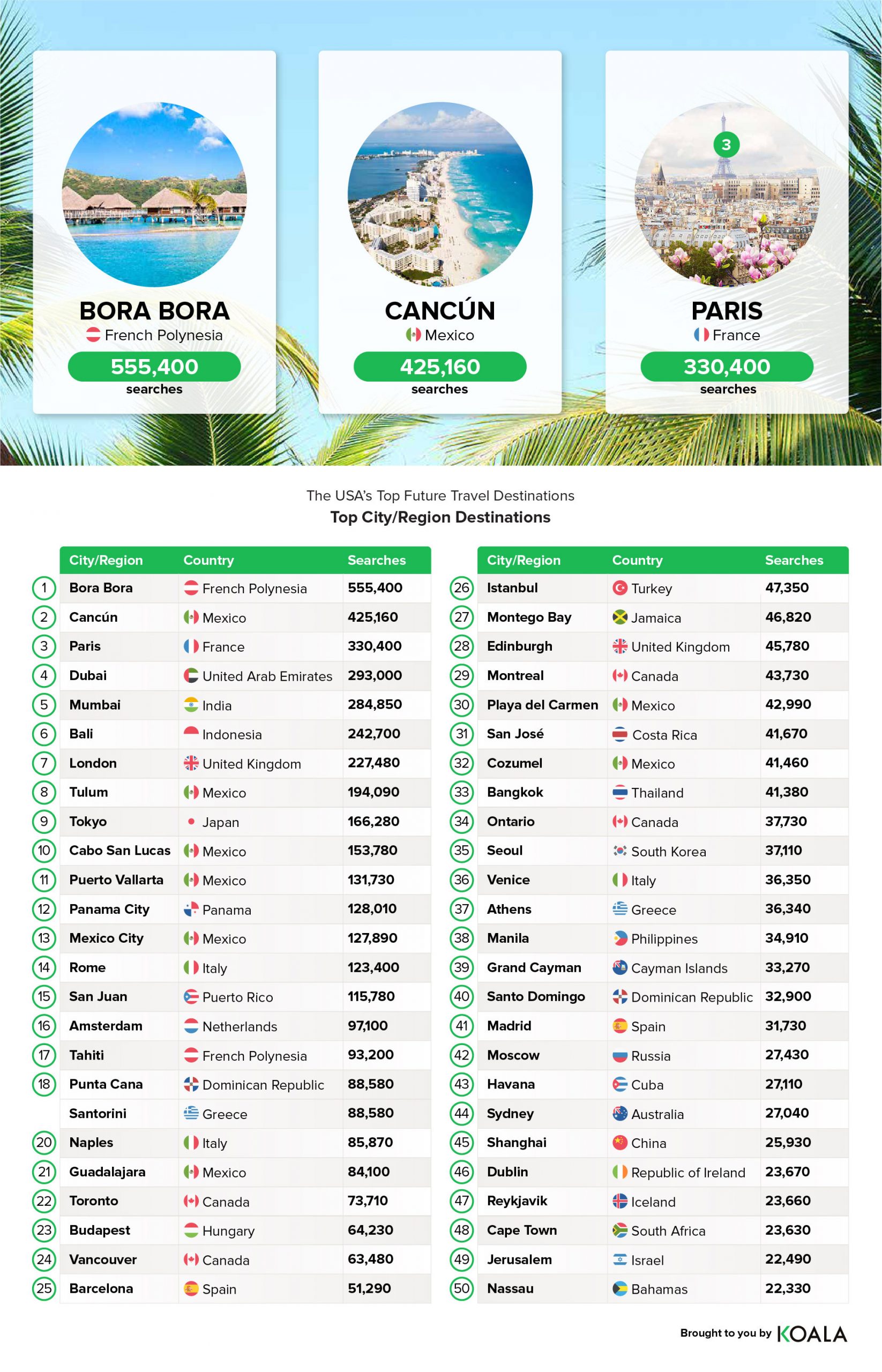 The Destinations Falling in Popularity
Country Destinations with the Biggest Declines
Interest in destinations all around the world has taken a hit in the last year, but which are locations have seen the biggest decrease in interest over the last 12 months?
The country that saw the biggest drop in searches was Hong Kong, with a decline of 48.8%. The special administrative region of China was hit in the last year not just by the coronavirus but also widespread protests.
Hong Kong was followed by Singapore, with searches dropping by 41.8% (despite the country's relative success in containing the pandemic), and Cuba, where travel has become more restrictive for Americans, with a decrease of 39.2%.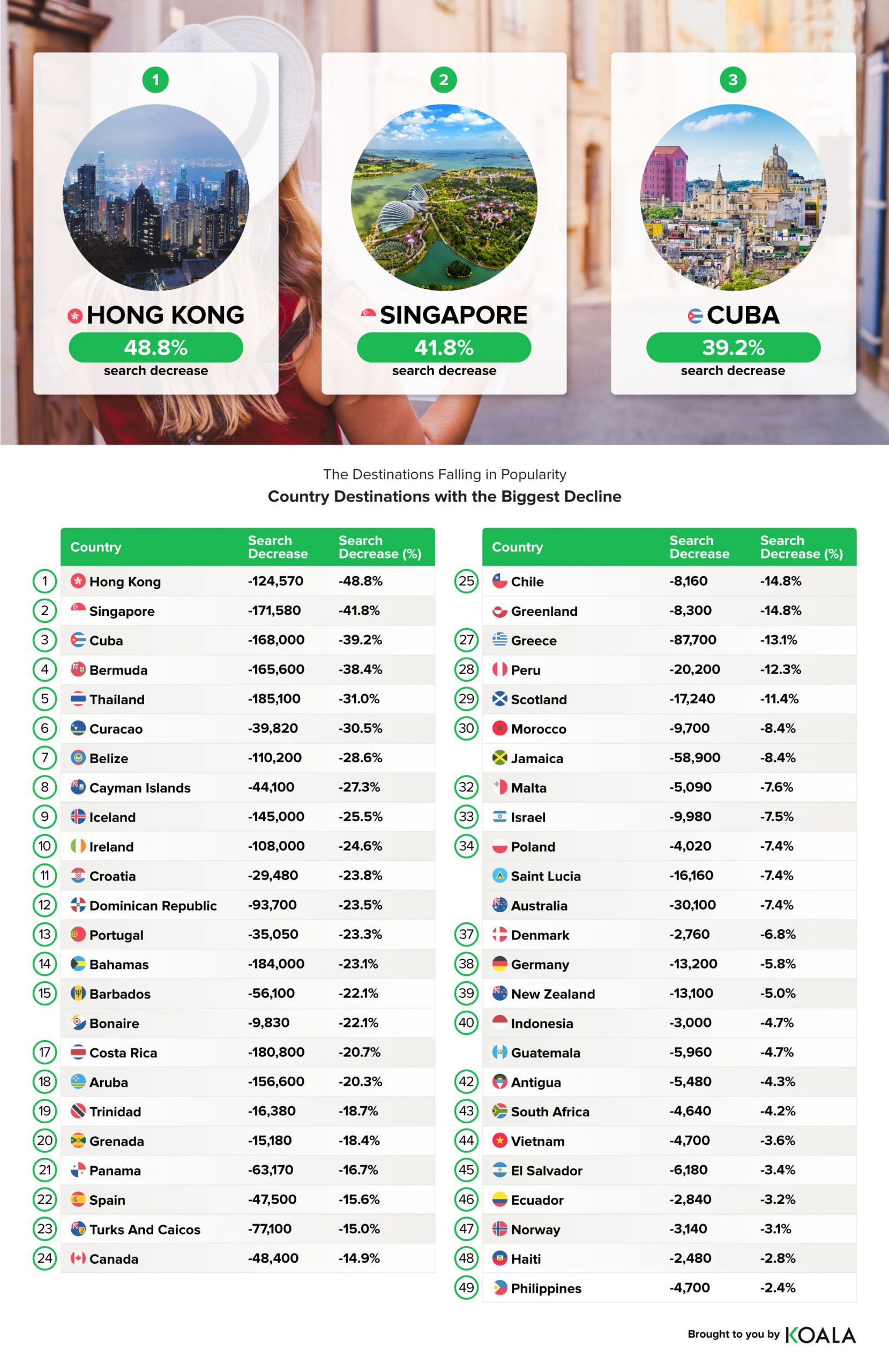 City/Region Decreases with the Biggest Decline
When we look at which cities have seen the biggest decline in people searching for trips, it was Mumbai, India, that has suffered the most in the last year, with an 81.4% decrease.
And despite being relatively easy to get to for most Americans, Montreal was the city with the second-biggest drop in searches, dipping by 59.1% in the last year. The U.S.–Canada border is currently restricted to essential travel.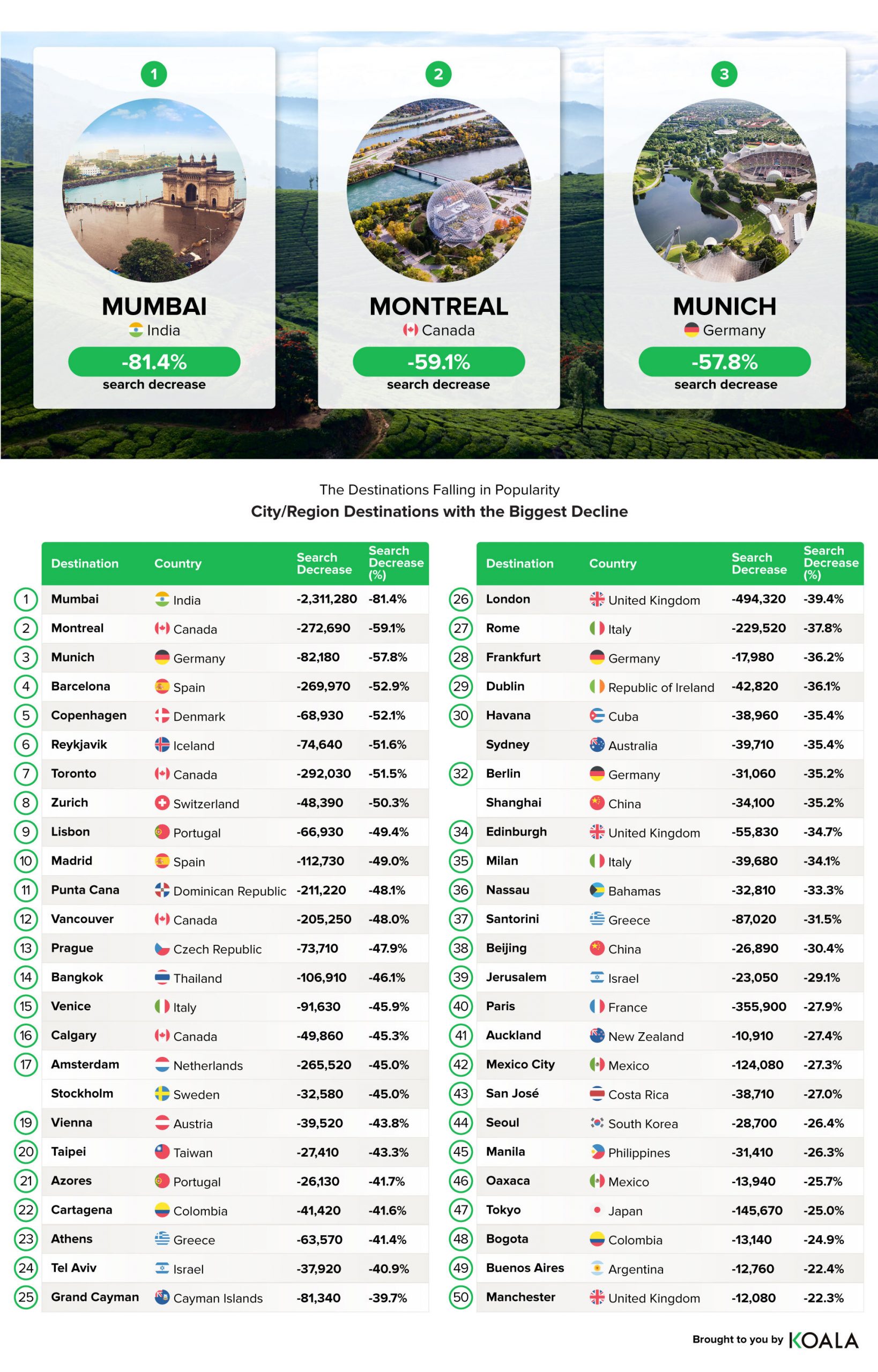 Each State's Top Future Travel Destinations
Top Country Destinations
Looking at how interest in various destinations breaks down state by state, we see that the majority are most looking forward to a trip to Puerto Rico once restrictions are eased. That trend is more pronounced among states on the East Coast, while those further west were more likely to be searching for trips to the likes of Mexico and Japan.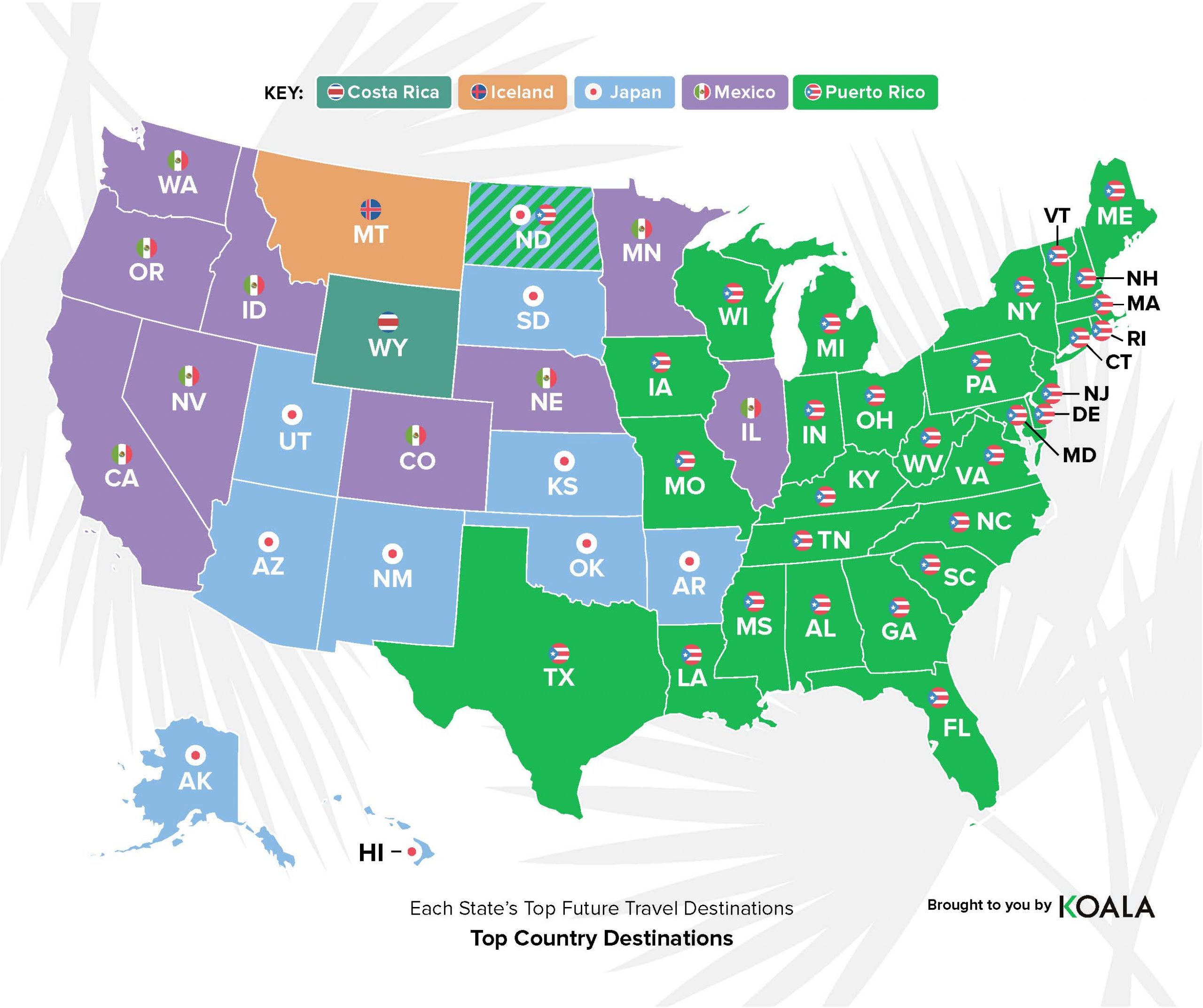 Top City/Region Destinations
When we look at the cities and regions that residents of each state are most looking forward to visiting, we see that almost every state is split between two destinations: Bora Bora in French Polynesia and Cancún in Mexico. Again, there's a bit of an East/West split, with states on the East Coast generally preferring Bora Bora, while those in the West are more likely to head down to Cancún. The one state that favored a different destination was Hawaii, where the locals spent the most time searching for trips to Bali, Indonesia.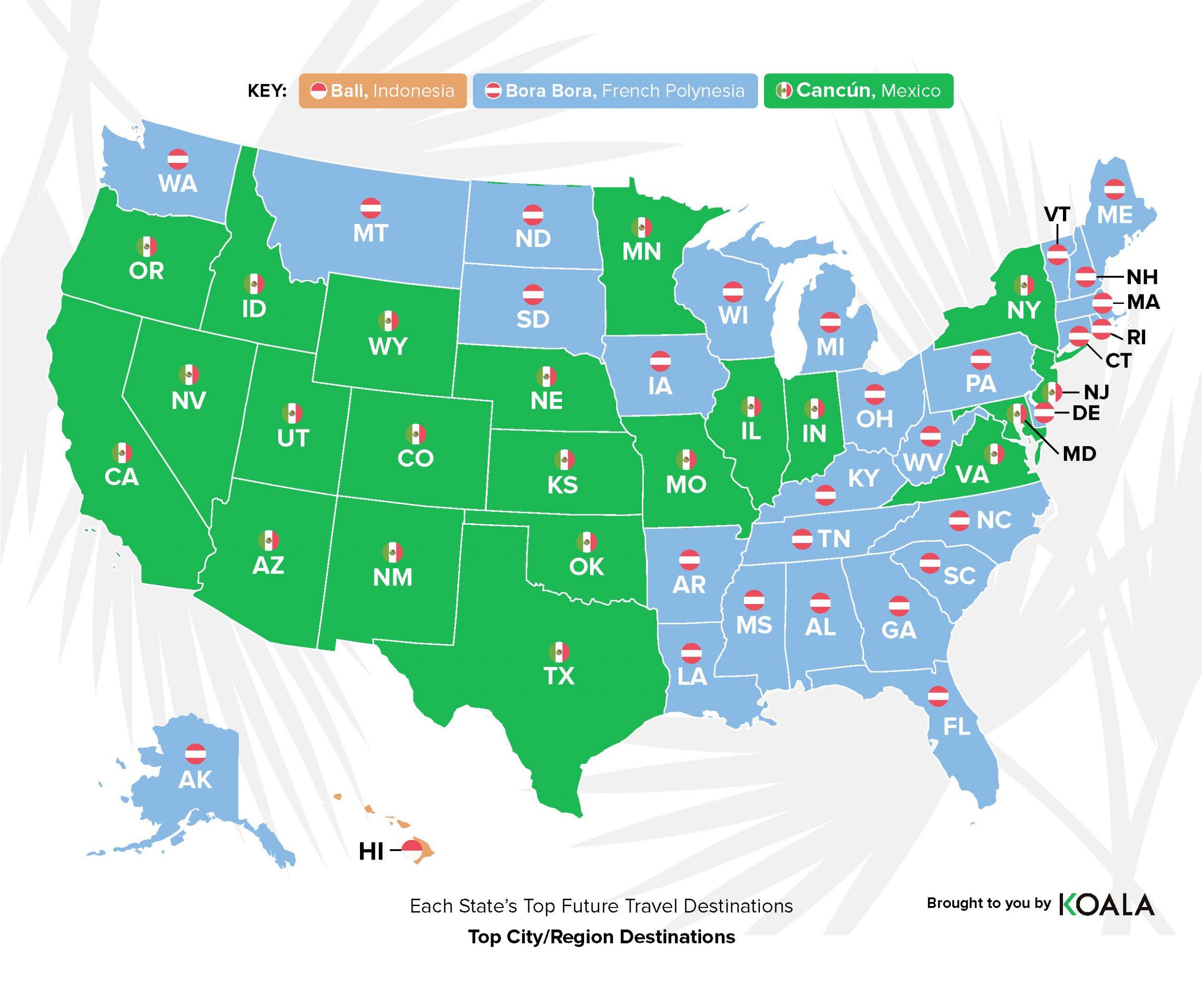 Methodology
Top Country Destinations relate to the total number of searches made for each destination between April and October 2020 and were sourced using Google Ads' Keyword Planner. For the destinations with the biggest decline, we compared the number of searches for the 12-month period between November 2019 and October 2020 to the previous 12 months (November 2018 to October 2020).
For each destination, we analyzed the number of searches for the following terms: 
Flights to [Destination]
[Destination] vacations
[Destination] hotels